For grilling enthusiasts, there's nothing quite like the aroma and taste of food cooked over a wood fire. The tantalizing smoky flavors are truly unparalleled. That's why we were beyond thrilled to test out the Pit Boss Austin XL Wood Pellet Grill and Smoker, a product that promises to deliver an authentic wood-fired experience in a user-friendly package. In this comprehensive review, we'll delve deep into the various aspects of this multi-faceted grill and smoker, and we're confident that you'll be as amazed as we were. So, let's get started!
Unboxing and Assembly: A Breeze from the Start
Upon receiving the Pit Boss Austin XL, we immediately noticed the quality of its packaging. The components were securely protected, ensuring a safe delivery. As we began to unbox the grill, we discovered that the assembly process was incredibly straightforward, thanks to the easy-to-follow instructions provided.
In no time, we had the grill assembled and ready for action. The robust construction and durable materials left us with no doubt that this grill would stand the test of time and withstand many grilling sessions.
Design and Features: A Perfect Blend of Form and Function
As we examined the Austin XL more closely, it became evident that Pit Boss has invested a great deal of thought into every aspect of the design. The grill offers a generous cooking area of 1,000 square inches, enabling you to cook large quantities of food with ease. The combination of porcelain-coated cast iron cooking grates and stainless steel warming rack ensures even heat distribution while also making cleaning a breeze after your grilling sessions.
One of our favorite features is the innovative flame broiler system, which allows you to effortlessly switch between direct and indirect heat. This versatility is perfect for those who enjoy both grilling and smoking their food. Moreover, the digital control board with LED readout enables you to accurately control the temperature, ensuring perfect results every time.
The hopper capacity of 31 lbs of wood pellets means you won't need to worry about constantly refueling, and the pellet cleanout system makes for a hassle-free experience. The grill also comes with two meat probes, allowing you to monitor the internal temperature of your food without opening the lid and losing valuable heat.
Performance: Wood-Fired Perfection
Now, let's address the main concern: how well does the Pit Boss Austin XL perform? In short, it exceeded our expectations. We tested the grill with a variety of foods, from succulent steaks and hamburgers to delicate fish and vegetables. In every case, the results were outstanding.
The wood pellet system delivers a consistent temperature, which allowed us to achieve perfect sear marks on our steaks and burgers. The adjustable flame broiler was a game-changer for us, as it let us easily switch between high-heat grilling and low-and-slow smoking.
Cleaning and Maintenance: Effortless Upkeep
After an enjoyable day of grilling, the last thing anyone wants to do is spend hours cleaning up. Thankfully, the Pit Boss Austin XL has several features designed to make cleanup a breeze. The porcelain-coated cooking grates and stainless steel warming rack can be easily wiped down with a grill brush, and the removable drip tray catches grease and debris for simple disposal.
The pellet cleanout system is another standout feature. With a few quick steps, you can empty the hopper of any remaining pellets, ensuring they stay fresh and ready for your next cookout.
Transform Your Outdoor Cooking Experience
In our final thoughts, the Pit Boss Austin XL Wood Pellet Grill and Smoker is an exceptional investment for anyone
who is passionate about grilling and smoking. Its blend of versatility, ease of use, and exceptional performance make it an indispensable addition to your outdoor cooking arsenal. The innovative flame broiler system, generous cooking area, and precise temperature control are just a few of the features that set this grill apart from the competition.
Furthermore, the Austin XL is built with convenience in mind, from the pellet cleanout system to the easy-to-clean cooking surfaces. No longer will you dread the cleanup process after a long day of grilling. Instead, you can focus on enjoying the delicious, wood-fired flavors that this grill has to offer.
Accessories and Add-ons – Enhance Your Grilling Experience
To further improve your grilling experience, the Pit Boss Austin XL has a range of compatible accessories and add-ons. From custom-fitted grill covers that protect your investment to additional cooking tools like rib racks and pizza stones, these accessories are designed to help you get the most out of your grill.
Customer Support and Warranty – Peace of Mind Guaranteed
Pit Boss stands behind their products with a comprehensive 5-year warranty, demonstrating their confidence in the quality and durability of the Austin XL. Additionally, their responsive customer support team is always available to assist you with any questions or concerns you may have. This level of commitment to customer satisfaction is yet another reason why we highly recommend the Austin XL Wood Pellet Grill and Smoker.
Grilling Mastery at Your Fingertips
In conclusion, the Pit Boss Austin XL Wood Pellet Grill and Smoker is a game changer for those who love the art of outdoor cooking. Its user-friendly design, top-notch performance, and easy maintenance make it a must-have for grilling enthusiasts. By incorporating this exceptional grill into your outdoor space, you'll be well on your way to creating mouthwatering, wood-fired dishes that will leave your guests craving more.
With the Austin XL, you'll have everything you need to become the grill master you've always wanted to be. So why wait any longer? Embrace the wood-fired revolution and elevate your grilling game with the Pit Boss Austin XL Wood Pellet Grill and Smoker.
Frequently Asked Questions – Clarifying Common Concerns
To help you make an informed decision about whether the Pit Boss Austin XL Wood Pellet Grill and Smoker is the right choice for you, we've compiled a list of frequently asked questions along with our expert answers:
How do wood pellets compare to charcoal or gas for grilling?
Wood pellets offer several advantages over traditional charcoal or gas grilling. They provide a more consistent temperature, which allows for better control and more even cooking. Additionally, wood pellets impart a distinct smoky flavor that is difficult to achieve with gas and more consistent than charcoal.
Can I use any brand of wood pellets with the Austin XL?
While you can use any brand of wood pellets with the Austin XL, we recommend using Pit Boss branded pellets, as they are specifically designed for optimal performance with their grills. Pit Boss offers a wide range of wood pellet flavors, allowing you to experiment with different smoky profiles for your dishes.
How long does it take for the grill to reach the desired temperature?
The Pit Boss Austin XL heats up quickly, typically reaching the desired temperature within 10-15 minutes. This rapid heat-up time ensures that you can start cooking sooner, reducing the overall time needed for your grilling sessions.
What is the temperature range of the Austin XL?
The temperature range of the Austin XL is between 180°F and 500°F, allowing for a wide variety of cooking techniques, from low-and-slow smoking to high-heat searing.
Can the Austin XL be used for cold smoking?
While the Austin XL's temperature range does not go low enough for traditional cold smoking, you can still achieve excellent results using the lower end of its temperature range (around 180°F) for smoking more delicate foods, such as fish and cheese.
Final Verdict – Your Ticket to Grilling Greatness
After thoroughly examining every aspect of the Pit Boss Austin XL Wood Pellet Grill and Smoker, we can confidently say that it is an extraordinary addition to any outdoor cooking setup. Its combination of advanced features, ease of use, and impressive performance make it a valuable investment for grilling enthusiasts of all skill levels.
By choosing the Austin XL, you'll have everything you need to explore the world of wood-fired cooking, impressing your friends and family with mouthwatering dishes that boast authentic, smoky flavors. Don't miss out on the opportunity to elevate your grilling game and create unforgettable culinary experiences with the Pit Boss Austin XL Wood Pellet Grill and Smoker.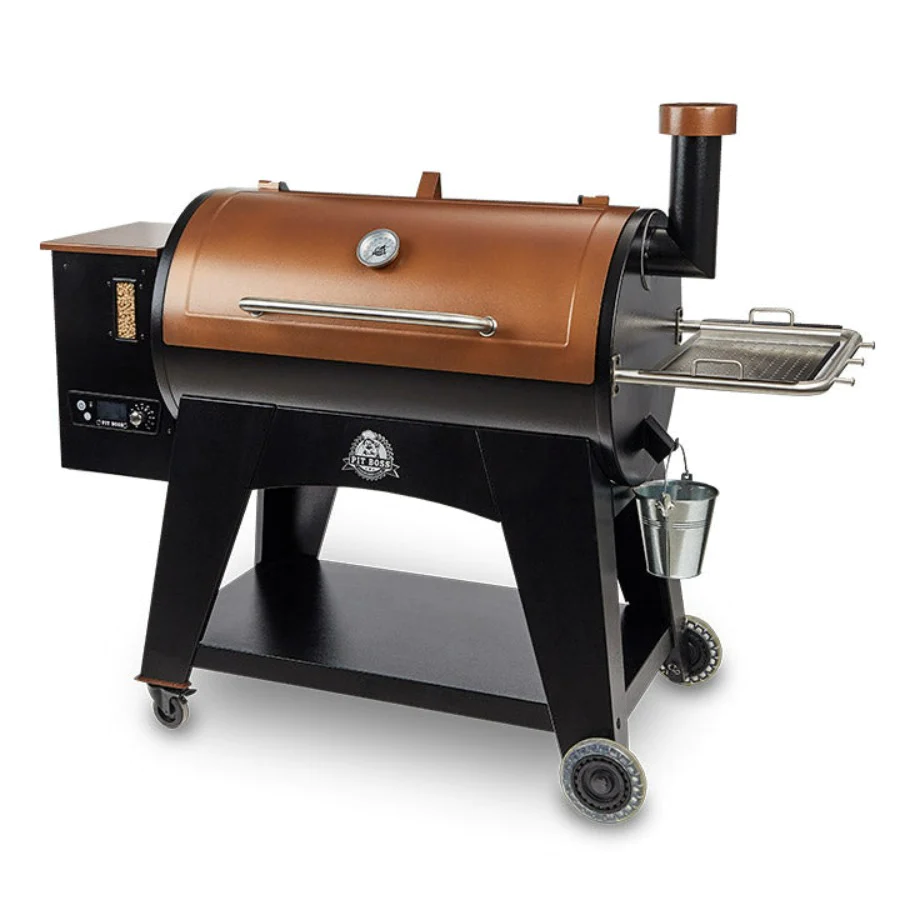 Tips and Tricks – Making the Most of Your Austin XL
To help you maximize your grilling experience with the Pit Boss Austin XL Wood Pellet Grill and Smoker, we've put together a few tips and tricks that we've discovered during our time using this fantastic grill:
Preheat your grill: Always preheat your Austin XL to the desired temperature before placing food on the cooking grates. This ensures that your food cooks evenly and develops a beautiful sear.
Experiment with wood pellet flavors: The wide variety of wood pellet flavors available means you can customize the smoky taste of your dishes. Don't be afraid to mix and match different pellet flavors to create unique flavor profiles.
Use a digital meat thermometer: While the Austin XL comes with two meat probes, it's always a good idea to have a separate digital meat thermometer on hand to double-check the internal temperature of your food, ensuring perfect doneness every time.
Keep your grill clean: Regularly cleaning your Austin XL will not only prolong its lifespan but also improve its performance. Make it a habit to clean the cooking grates, drip tray, and pellet hopper after each grilling session.
Practice proper grill safety: Always use heat-resistant gloves and long-handled tools when working with the Austin XL to protect yourself from burns. Additionally, be sure to keep children and pets at a safe distance from the grill while it's in use.
The Pit Boss Community – Join the Wood-Fired Revolution
By investing in the Pit Boss Austin XL Wood Pellet Grill and Smoker, you're not only getting a top-of-the-line grill but also joining a passionate community of wood-fired cooking enthusiasts. Pit Boss offers a wealth of online resources, including delicious recipes, instructional videos, and helpful articles that will inspire you to explore new culinary possibilities with your grill.